Today, as I read the headlines of various newspapers in Pakistan, the extraordinary nature of the times we are living in struck me hard. I plan to give this article more of a reflective orientation but unfortunately it will have its fair share of facts and figures because they convey the story and highlight the seriousness of what is happening. Following is a snapshot of latest developments in Pakistan – your typical developing country:
Pakistan is facing two critical economic issues simultaneously: rising food inflation and increasing unemployment, which economists refer to as stagflation. In January 2023, food inflation stood at 45% in rural areas and 39% in urban areas, with the 12-month moving average of national food inflation reaching 27% last month, up from 12% eight months ago. The rising food prices are happening at a time when unemployment is also growing. Around 4.7% of formal sector personnel may have lost their jobs over the past year, which amounts to 500,000 people. The situation in the textile sector is particularly dire, with an estimated job loss of 70,000-100,000 in Karachi and 300,000-400,000 in Punjab, while another half a million job losses are expected in the sector in the coming months. The auto parts manufacturing industry is also facing challenges, with an estimated 50,000 direct job losses in the sector.
The falling consumption due to job losses and overall falling real incomes is affecting the economy, with petroleum sales down by 15% in petrol and 23% in diesel. Power generation is down by 8%, and domestic cement sales have declined by 17%. However, despite the fall in demand, there has been no respite in food inflation, and economists and analysts are perplexed by the big jumps in food inflation.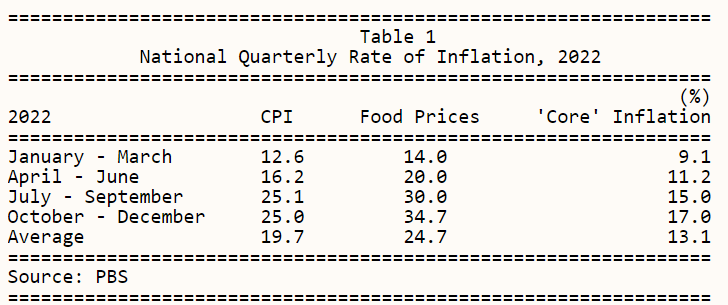 BR Research shows that compared to the past, mitigating factors within the CPI food basket have disappeared, pushing the headline food index higher. In the past, higher inflation in other food items was compensated seasonally by lower inflation or even a fall in prices of high-weight commodities. However, over the past few months, prices of most of these commodities have refused to relent, even seasonally. One explanation for high food inflation is that momentum has been building in many high-weight commodities for many months. Other reasons for rising food inflation include smuggling of food items to Afghanistan and central Asian countries.
Now, things might be a little different in the developed countries such as the U.S. However, the intensity and frequency of such issues might be different but that doesn't mean the absence of issues or in this case an economic slowdown. The latest job report confused me. If we look at different indicators such as ISM, PMI and new orders, we see significant reductions. For instance, retail sales fell for three consecutive months (Nov, Dec, Jan) while 30K jobs were added in the sector. Construction added 25k jobs while we saw a double digit fall in housing permits and sales. ISM indicator fell to 42.5 percent showing a steep slowdown – industrial production has fallen throughout October till January. Why then so many jobs? To be honest, I do not have the answer to that. But the real economy definitely seems to decoupling from the ones in papers.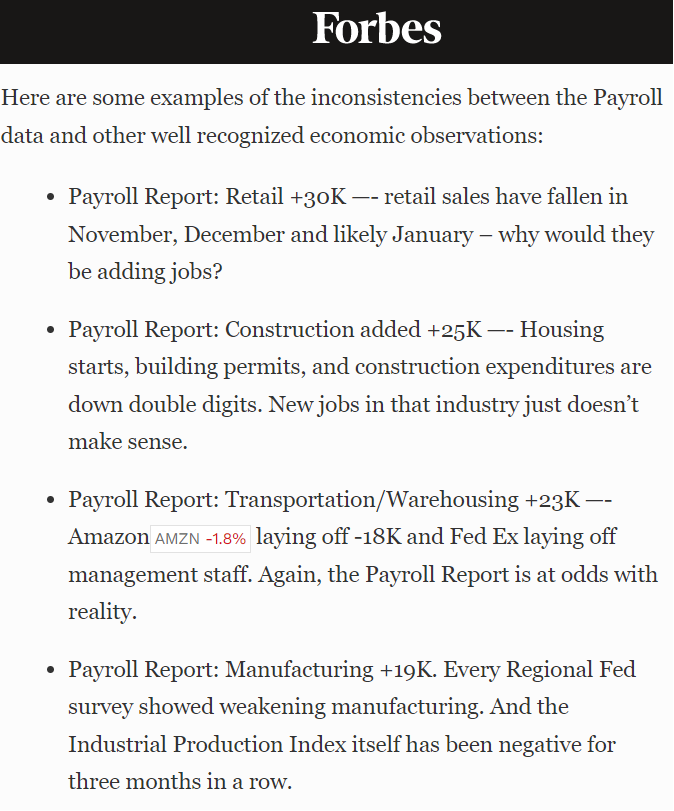 These mixed signals have given wind to the idea of what is being termed a "rolling recession" which is a type of recession that impacts different sectors of economy at different times. I tend to believe this is the only thing that makes sense of what is happening apart from the fact that the moment of truth is still somehwere ahead on the timeline and we might be looking for a recession sooner than it is expected to happen. The rolling recession especially makes sense when we look at different countries in the world and the disproportionate effect of the global monetary policy tightening cycle, geopolitical developments and other events such as covid-19 and brewing trade on countries.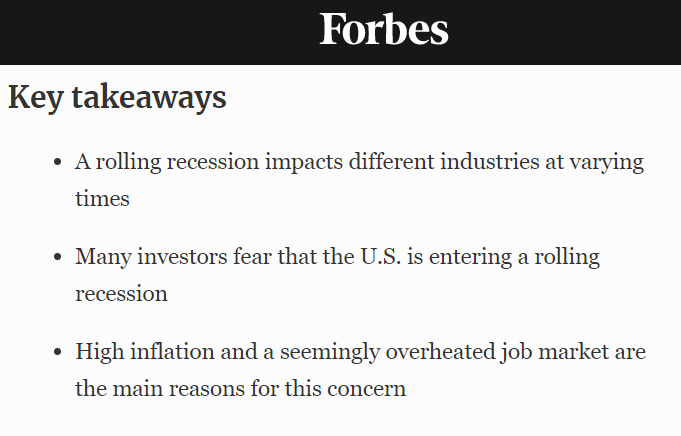 Beyond the noise of numbers, we have seen some developments that clearly highlight the concerns in global economy. Whether there are lay offs in tech industry or rising food prices across the world – the problems have persisted. I have mentioned the ISM indicators above, look at the chart below – it shows a clear slowdown.
Also the debate about soft or hard landing and the fact that we rarely have gotten it right remains unaddressed. With the term rolling recession rolling into the news, a new dimension has surfaced and actually no one knows what is happening.
There are some indicators, in this madness, that still have strong ground. One of them is the inverted yield curve which recently touched the highest as the 3Month/10 year sperad reached -132bps by mid January.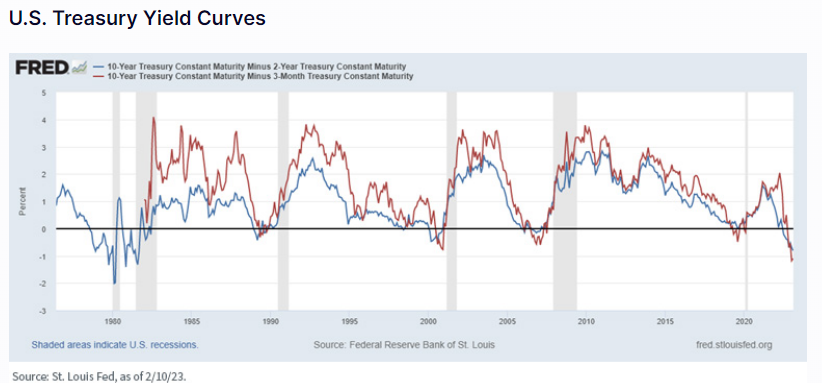 Why am I mentioning yield curve? I will let Mr. GPT explain it below: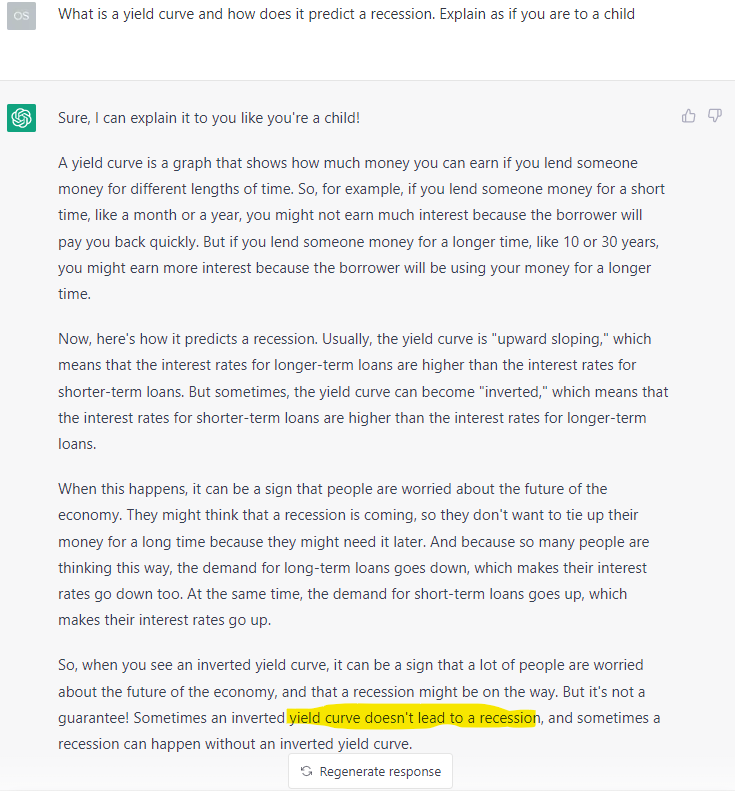 The last line is interesting and let me explain it a bit more. According to a recent blog by Goldman Sachs, the reason that 'this time it might be different' is the expectation that Fed will start to pivot and decrease or stop hiking the interest rates. Without going into much detail we all know that might not be the case: China's reopneing, upward pressure on energy prices, prolonging the interest rate hiking cycle – something like that.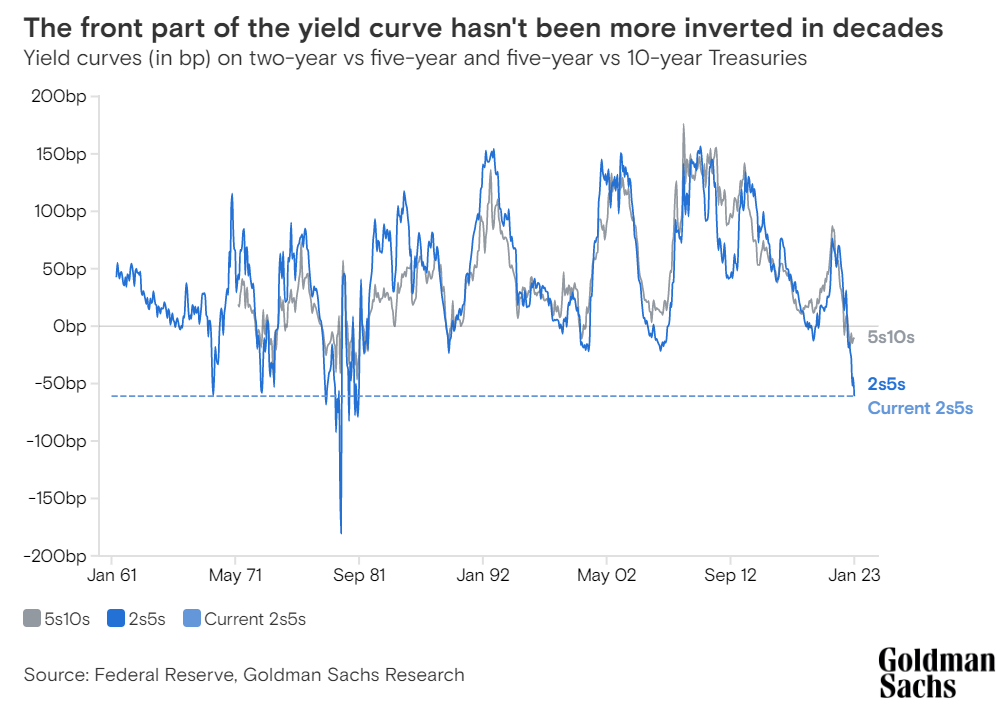 So while the global economic indicators continue to give mixed signals creating a lot of noise, the signal that I am looking at is the global sentiment. Unfortunately, it continues to shift but there is an underlying theme, thread and tide to it: people are concerned regarding the future. This is what the inverted yield curve is showing. We are seeing an exaggerated or rather a realistic version of this concern in the developing world such as Pakistan where millions are losing jobs and policymakers are between a rock and hard place suspending the highly significant basis of decisions: time.
As we go deep into 2023, I believe cracks will start to appear and the chasm will grow. Wealth gaps will become further pronounced and social unrests and political instability might be the norm during the year. All depends upon the overall economic situation especially of the low and middle income countries/classes.