There has been some interesting developments in oil markets specifically in the recent days that I will discuss here in this article. The implications of these developments will not only be confined to the prices but will also determine the bigger-picture shifts in global economy. The narrative of an upcoming slowdown (read: recession) seems to be substantiated as top three oil exporters have managed to slash 1.3mbpd of total oil exports meanwhile LNG stocks remain high suggesting weaker demand and overall map of oil is being redrawn. Lastly, Global Economic Surprise Index is also plunging.
In May, the world's top three oil exporters – Saudi Arabia, the US, and Russia – have significantly reduced their exports. Saudi Arabia, in the first month of its voluntary production cut, saw its crude exports decrease sharply. US exports also fell for a second consecutive month, while Russia's exports hit their lowest level since February.
Preliminary data for May indicates that Saudi Arabia's crude/condensate exports fell by approximately 800,000 barrels per day (kbd) compared to the full month of April. This suggests a strong response to the voluntary supply cut, although a closer examination reveals that this drop followed a period of notably higher exports.
The combined total exports from the "big three" have decreased by around 1.3 million barrels per day (mbd) so far in May compared to April. Despite this decline, the total export volume of 14.2 mbd remains at the upper end of historic ranges. Saudi exports, which reached nearly 8 mbd in early April, fell sharply but still stood at a significant 6.4-6.5 mbd by late May.
Russian exports in May declined by roughly 300kbd compared to April. This marks the first decline since Russia's announced 500kbd cut and is expected to significantly impact India, the largest post-war importer. Yet, with total exports of 3.5mbd, Russia's exports for May are still within the upper end of historical ranges.
US exports, on the other hand, have shown resilience with only a minor fall of about 100kbd from April. This is attributed to strong demand for US cargoes from Europe, which has been reducing its dependency on Russian crude. This trend is reinforced by the increasing inclusion of WTI crude in European North Sea crude market assessments.
The reduction in exports from the "Big Three" has significantly impacted global oil supplies. Their share of total global crude oil exports reached 36% last month, up from 28% in February 2021, but has fallen sharply in May. It remains to be seen if this is a temporary supply tightening or a longer-term shift in oil export strategy.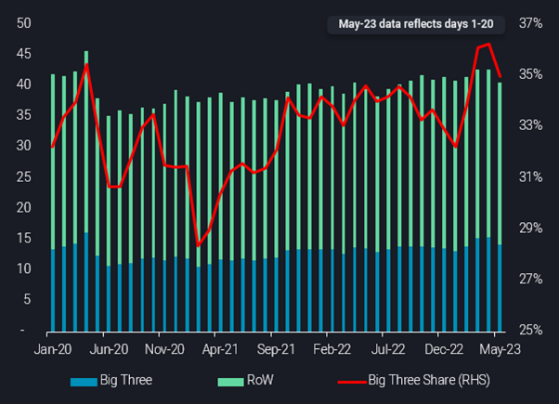 On the other hand, Russia is still going strong as it recently registered a rebound in oil revenues since November 2022.
The Centre for Research on Energy and Clean Air (CREA) found that revenues have recovered from the lows of January and February, despite import bans and a G7 oil price cap. This resilience comes as a surprise, especially given G7 leaders' claims that their price cap policy was successful in decreasing Russian revenues and benefiting global markets with falling oil and gas prices.
Though Russia's April export revenue was down year-on-year, largely due to the EU import ban and lower oil prices, the country has managed to export its main crude oil variety at prices systematically above the cap. This reveals significant enforcement gaps in the price cap policy, which if not addressed could permanently damage the mechanism, consequently facilitating Russia's military operations.
Russia's oil tax revenues are anticipated to continue their recovery due to increased sales, with a 6% rise seen in April, and an even larger increase expected in May. Analysts warn that without intervention from the price cap coalition, Russia's oil revenue recovery could lead to the complete failure of the price cap system.
Global liquefied natural gas (LNG) inventories have surged due to subdued demand, nearly doubling compared to last year to reach 550,000 tons as of April 20, as per Kpler data. This rise in stockpiles is predominantly driven by reduced demand from the world's three largest LNG importers: China, Japan, and South Korea.
The Institute for Energy Economics and Financial Analysis (IEEFA) noted a continued decline in Asian LNG demand in the first quarter due to a mild winter and high prices. It can also be partly due to a rise in nuclear energy use. For instance, in Japan, nuclear reactor restarts could reduce annual LNG demand by about 6 million tons or 8 percent of its 2022 imports.
But this narrative ties neatly with the overall subdued economic activity as shown by a fall in global frieght volumes. Data from Netherlands Bureau of Economic Policy Analysis show that frieght volumes fell -1.1 percent in comparison to previous year. Cargo at London Heathrow airport is still down -7 percent and air freight at Narita, Japan was down -22 percent. Shipping containers being handled at 9 largest U.S. ports were down 16 percent.