In this week's newsletter we bring to you data driven insights on the economic impact of Israel and Gaza conflict alongwith a detailed and indepth analysis of the oil markets and global economy.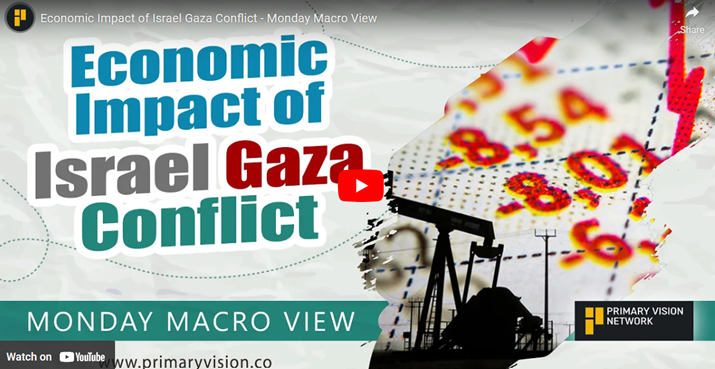 Osama Rizvi discusses the potential repercussions of the Israel-Gaza conflict on the global economy. He emphasizes that this conflict could not only disrupt global oil flows but also push the world into a recession. The video delves into various scenarios, including the potential for oil price spikes, impacts on global GDP growth, and the influence of geopolitical tensions on economic decisions. The broader implications of the conflict, such as its effect on inflation rates, U.S. presidential elections, and global relations, are also explored.
This detailed analysis by Primary Vision Network's Senior Analyst, Mark Rossano, shows how the global energy landscape is undergoing significant shifts. Completion activity in the oil sector, particularly in the Permian and Western Gulf, is on the rise, with the Permian expected to reach significant production levels soon. Geopolitical tensions, especially in the Middle East, are influencing crude markets, with potential deals involving Venezuela to replace Middle Eastern heavy crude barrels. The USS Carney's recent interception of missiles and drones aimed at Israel underscores the escalating tensions in the region. Additionally, Brent prices are maintaining their geopolitical premium due to attacks on U.S. assets. The article also highlights concerns about the global distillate market, emphasizing the need for energy independence and the challenges of turning food into fuel. Amidst these complexities, the piece underscores the importance of staying vigilant in the market, especially given the potential for geopolitical events to significantly impact global energy dynamics.
In his recent article titled "Global Economic Overview: Navigating Tensions, Ascent, and Debt," Osama Rizvi delves deep into the intricate tapestry of the current global economic landscape. From the escalating tensions in the Middle East and their potential to send oil prices skyrocketing to an unprecedented $150 a barrel, to China's unstoppable economic ascent and its deepening ties with Iran, the stakes have never been higher. But that's not all; the world is grappling with a staggering global debt of $226 trillion, overshadowing the world's GDP, and inflation rates in the U.S. touching a 30-year high. Amidst these tumultuous times, investor confidence wavers, threatened by the looming uncertainties. The article masterfully weaves these complex threads, emphasizing the interconnectedness of today's global economy. If you're keen to understand how regional tensions can ripple across the world or how soaring global debt and rising inflation fit into this vast puzzle, this is a must-read. Dive in to equip yourself with insights that will help navigate the challenges that lie ahead.
*Premium Subscribers
**Enterprise Subscribers
Learn more about a subscription here or email us directly: info@primaryvision.co